Panama City Surgery Center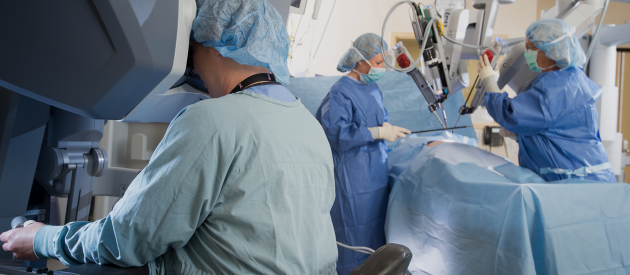 Robotic Surgery
The Panama City Surgery Center is on the cutting edge of the newest techniques for Robotic Surgery, also referred to as Computer-assisted surgery or Robotic-assisted surgery.
Robotic Surgery
Seen by most medical professionals as the best surgical innovation over the past two decades, it has proven to be highly beneficial to both surgeons and patients alike. Surgeons know they can perform the most delicate operations with minimal incisions through layers of muscle, therefore reducing injury to tissue and blood supply. Robotic Surgery also lowers the risk for infections and pain following surgery.
Patient benefits include shorter recovery times, less medication to relieve discomfort, and a decreased need of overnight stays in a hospital, reducing cost to the patient's insurance companies and the entire health care system. Robotic-assisted technology like the da Vinci® Surgical System Si is used in multiple specialties, including General Surgery, Colorectal, Gynecologic, Head and Neck, and Urologic procedures. The medical community is continually finding new ways to utilize this exciting technology.
For your convenience we now offer One Medical Passport for your surgery. Registration is designed to be quick and easy and completing the form should take you 10-15 minutes. Please have your insurance information handy before entering the site.