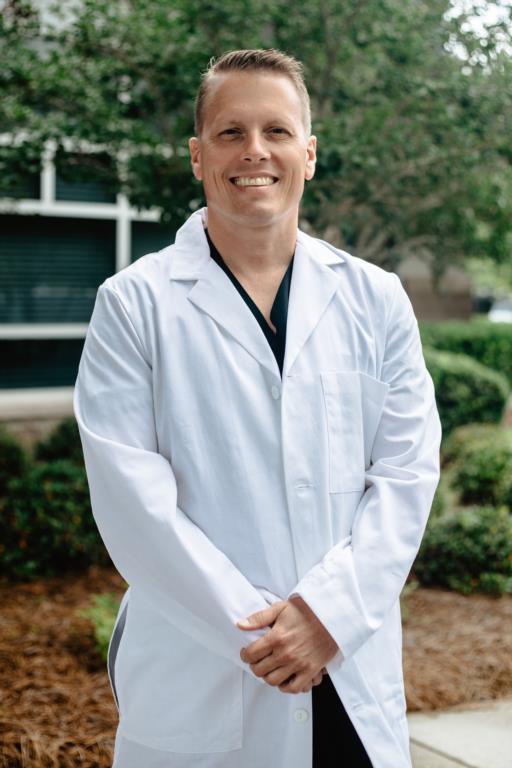 Specialty:
Pain Management
Address:
2103 Jenks Ave
Panama City, FL 32405
Dr. Shores is a fellowship trained interventional pain physician. He applies the latest advances in interventional pain management, musculoskeletal medicine, and physical medicine and rehabilitation in an effort to maximize patient care through the use of state of the art non-surgical and conservative treatments. He is the only board certified pain management expert in the panhandle of Florida with specialty training and board certifications in both anesthesiology pain medicine as well as physical medicine and rehabilitation. This experience gives Dr. Shores the expertise to evaluate and treat numerous conditions from their onset up to surgery.
Dr. Shores completed his undergraduate degree in Biochemistry at Florida State University. In 1999, he graduated with a doctorate of medicine from Ross University School of Medicine. His internship was completed at the Medical College of Georgia in internal medicine and his residency training at Georgetown University Hospital-National Rehabilitation Hospital in Washington, District of Columbia. During his residency program, he received numerous awards for outstanding performance and served as chief resident from 2002-2003. His residency achievements awarded him the opportunity to serve those active and retired members of the military at Walter Reed Army Medical Center. Dr. Shores also performed research on Complex Regional Pain Syndrome/Reflex Sympathetic Dystrophy at the National Institutes of Health in Bethesda, Maryland and then underwent additional specialty training at the University of North Carolina at Chapel Hill by completing a fellowship in anesthesiology interventional pain management. He has been practicing pain medicine in northwest Florida since 2004. During this time he has served as Director of Pain Medicine at Bay Medical Center and a member of the Board of Directors at Panama City Surgery Center in Panama City, Florida. Dr. Shores has also helped develop and expand several other pain management practices throughout the state of Florida. In August 2011, Dr. Shores founded Spine & Neuro Pain Specialists, a multi-specialty practice focused on providing exceptional comprehensive medical care to the community.
Dr. Shores believes in utilizing all available resources and treatments to safely reduce suffering in his patients. Dr. Shores incorporates multi-disciplinary, evidence based solutions using traditional (behavioral modification, bracing, injections and physical therapy) and alternative therapies (biofeedback, guided imagery, acupuncture, weight management,and organic pharmaceutical grade supplements). He puts the patients' needs first by listening to their concerns and incorporating their desires into the decision making process. This approach formulates an individualized patient-centered treatment program focused on controlling pain and restoring function. Adding quality back to your life is his top priority!
Specialties
Spine & Neuro
Pain Management