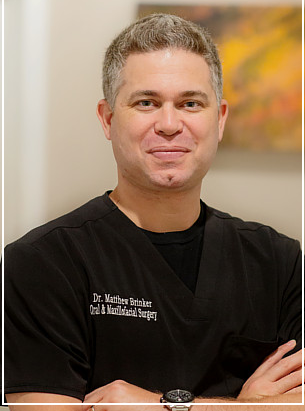 Specialty:
Oral and Maxillofacial Surgery
Address:
2624 Jenks Ave
Panama City, FL 32405
Dr. Brinker joined Dr. Claussen's Oral Surgery & Dental Implant Center in July and has been an excellent addition to the surgical team. Patient Comfort and Custom Treatment are of utmost importance – Dr. Brinker listens first and then creates a custom treatment plan that is completely explained.  He makes every effort to accommodate patients and keep their experience as comfortable as possible.
Background and Education
Dr. Matthew Brinker is originally from St. Louis, Missouri and completed his undergraduate studies at Saint Louis University and went on to study dentistry at the University of Missouri-K.C. While there, he achieved Summa Cum Laude status and was accepted into the 6-year University of Florida – Oral Maxillofacial Surgery residency program which he completed with high grades in 2022.
Professional Affiliations
Dr. Brinker's is an active member in good standing of the American Association of Oral and Maxillofacial Surgeons, Florida Society of Oral and Maxillofacial Surgeons, American Dental Association, and the Florida Dental Association.
Personal Life
On a personal note, When Dr. Brinker is not helping patients improve their smile, he's most often found with his family, golfing, boating or watching sports